Skazz Boomelight B962L, sneakers
Skazz Boomelight B962L, sneakers
EU size adults
SANSHA, SKAZZ
cm
44.90 €
59.90 €
Ex Tax: 37.42 €
Description

Sansha Boomelight - hi top leather sneakers with rubber split sole provide great foot stability. The split sole significantly improves the flexibility of the sneakers. The leather upper provides long lasting comfort while wearing. The Boomelight model is lighter and more gracious than the previous one, Boomerang, and that's why it is more suitable for less jump demanding dances (Salsa etc) or musicals. Also available with split textilsole
- the B962 model. Suitable for demanding hip hop and street dance choreographies. Often used by dance teachers.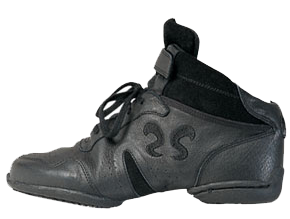 With this model Skazz by Sansha lays great importance on top quality, durability, resistance and flexibility of the sneakers. Best seller. Designed for advanced and professional dancers.


Specification
| | |
| --- | --- |
| Gender | Men, Women |
| Sole type | Split sole |
| Age | Adults |
| Material | Leather |
| Shoe cut | High |
| Outsole - material | Coated with fabric |