What size should I order? Will the item fit well? I have measured my foot length and I want to order by using size guard in cm... Sometimes I wear size S, sometimes size M, number 37 or number 38. Which one is the right for me? How do I know?
A weak spot of every online shop is that you haven´t got an opportunity to examine the goods before buying. I absolutely agree with your doubts unless you are ordering for second time and you know the product quality very well.
The Distance selling regulations allow you to exchange or refund the goods. But more comfortable is not to pack, refund and wait for the goods exchange, of course.
We have worked to minimize this kind of disadvantage and our e-shop offers the size selection by various options. By standard EU sizes, UK sizes, measurement in cm, numbers from the producer (if you know).
How did we proceed? We took standard EU sizes (ISO standards and European norms).
For example for shoe sizing we took a shoe sizing device (you can find in each shoe store). If it is necessary and if you are not sure with your shoe size, just measure your foot. We measured the length by moveable arch length pointer. We assigned the sizes (according to producers) as precisely as we could.

You can find these specifications next to the product.
Open the product and right away you will find various size charts. For example here, kids size (height in cm)/Bloch/EU size/UK size/US size/ chest-hips in cm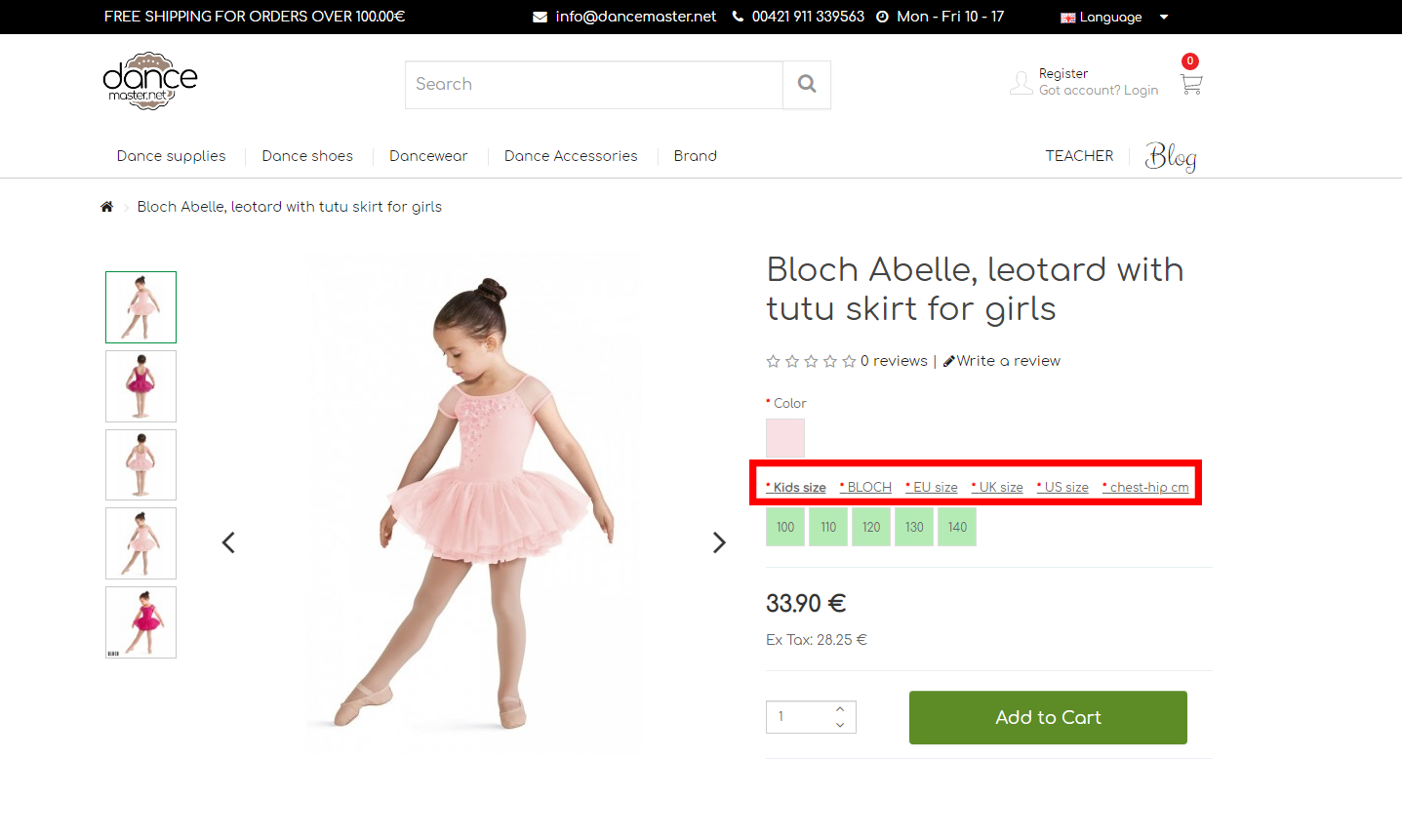 Behind the full functionality are months of work – including products measuring, many years of sale experience in dance clothing, long analysis of customers requirements and technical possibilities. But mainly a passion to be forthcoming for you - our customers.




We would like to emphasize that in spite of all preciseness effort can be possible that some goods won´t fit you as you wish. Some customers prefer shoes with perfect fitting, some prefer shoes with some more space.
Customers looking for dance shoes often measure their feet in cm. The measurement in cm is very precise and the way of measurement is individual. The length is only one of the indicators. A foot shape is very important as well. But you can´t measure it. A configuration of toes effects how the shoe will fit. We recommend choosing a regular EU size and realize if you are looking for perfect fitting shoes (because you know that after a time shoes get bigger as you wear them) or you need shoes with some space.





Improperly chosen goods will be exchanged in this case for the goods that make you satisfied and happy of course :)