How to choose the right dance leotard? With these 7 tips we think are good to know, it will be easier.
Choose leotard by dance style.

Although it may seem to be irrelevant, it's actually not. A classical dance teacher (ballet) usually recommends a thin shoulder strap jersey. The leotard should be a matter of course in classical dance lessons. Folk dancers, where class lessons are also very common, prefer mostly sleeved leotards (long, 3/4, short). Easily add skirts, roll over and are ready for the character part of the workout.
Contemporary dance is the most "free" in a matter of training clothes. Often used are ballet leotards of any style (lace, turtleneck, under leotards), especially for performances. A special type consists of leotards suitable for costumes. They are in body color, but when choosing such a leotard you should get advice from your dance teacher or bet on your feeling.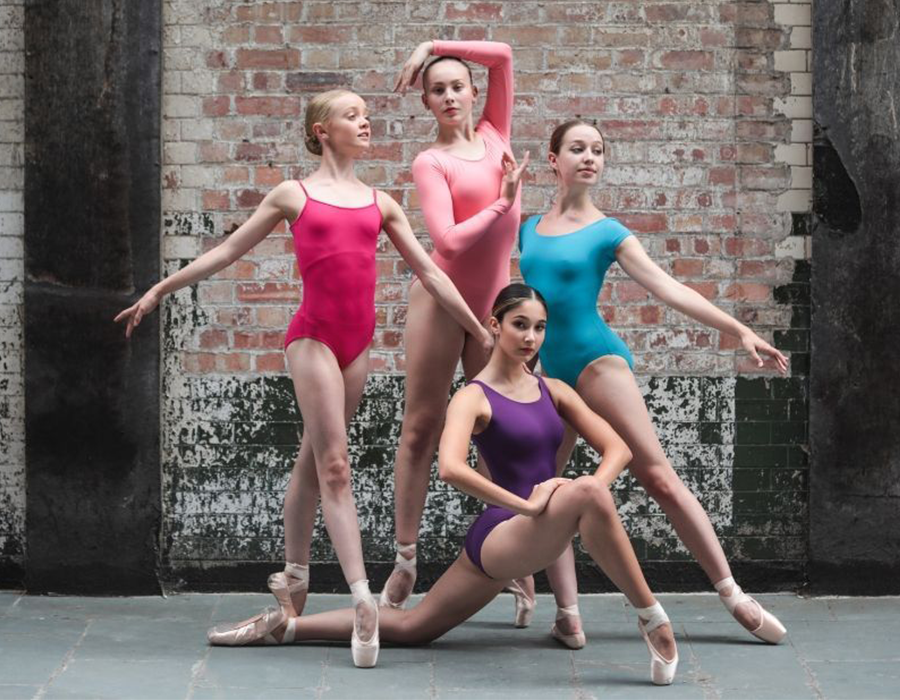 Choosing a leotard by size
Manufacturers list sizes for children and sizes for adults. The figure shows the conversion of the perimeter of the body parts to the so-called European rates. The European rate usually indicates child size by child's age: under 2 years, 2-4 years, 4-6 years, 6-8 years, 8-10 years, 12-14 years, 14-16 years. On the other part, Sansha only lists the letters A, B, C, D, E, F, G, H, I.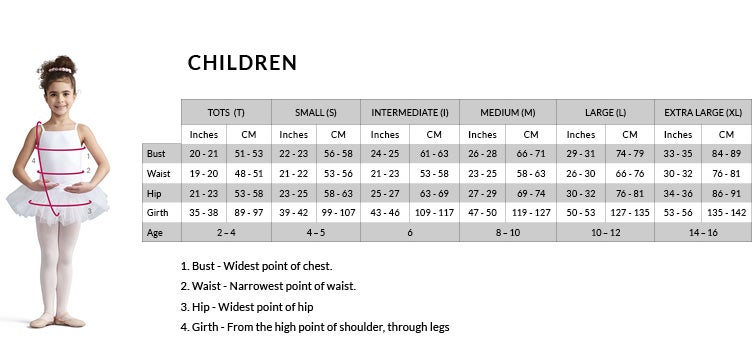 Bloch corresponds numerically with the exception of 6 -7- years. Capezio has kid sizes S, M, I, L, Y. For better orientation, we offer size conversions directly on the size selection in the description of the product. So if you know your European size, you can make your decision. If you already have a Sansha leotard and know the number, choose according to Sansha sizing.
A similar situation is in the selection of adult sizes. On our site you will find a comparison of the sizes of individual manufacturers so you can make an informed decision.
It is best to measure the following parts in centimeters: chest perimeter, waist perimeter, hip perimeter and height from the shoulders to the crotch. You can then substitute these rates in the "sizing chart" of the conversion table and get the European size.


Choosing a leotard by gender.
Here the situation is quite clear. I think there is no need to break this down. You can find leotards categorized by gender on our website in the left column.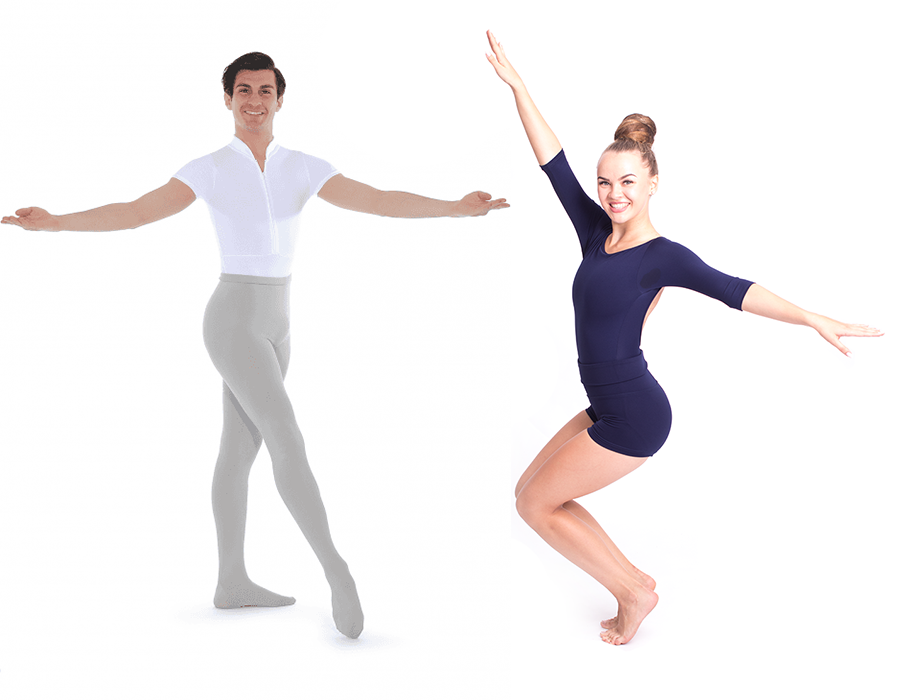 Choosing a leotard by size.
This sorting can be found in the category leotards on our e-shop.
Choosing a leotard by material.
Here comes a truly peculiar situation. Everyone feels comfortable in different materials and so I will be describing the most commonly used materials.
Bratech:

patented system of attaching sewn bra on only a certain points. Increases freedom of movement.

Tactel:

high-gloss polyamide fiber. Very dense fabric resistant to wind while maintaining breathability.

Spandex, Lycra, Elastane:

is a synthetic fiber known for its exceptional flexibility. It is stronger and more resistant than natural rubber.

Polyester:

non-absorbent material with high resistance to ultraviolet radiation, weathering and chemicals.

Nylon Polyamide or nylon:

lightweight, durable artificial fiber with high abrasion resistance.

Wool:

for our skin the most natural material. Perfectly absorbs sweat and also heats.

Silk:

the most expensive and highest quality fiber to use. Silk clothing is extremely smooth, delicate and can adapt to temperature. Warms up in the cold, absorbs sweat warmly and dries quickly.

Cotton:

very pleasant to the touch, flexible and soft. An unpleasant feature is the ability to bind water (sweat).

Satin:

smooth, high-gloss fabric. It is characterized by low weight and high fineness.

Meryl:

soft, breathable microfiber. It is easy to maintain, maintains shape and is elastic.

Moher:

soft wool with long hair from angora goats. Light and warm material.

Akryl:

artificial fiber textured like wool. It is used as a wool substitute. It is flexible, soft, with a lower tendency to crumble. Light, firm, flexible, does not shrink. Recently has emerged a combination of cotton with elastic materials. Such fabric absorbs sweat well and is also elastic.
Choosing a leotard by color
And we have another purely subjective category. Color, what to say? Choose according to your taste. We will only offer you a color palette of some manufacturers for better orientation. Sorting by color simplifies and speeds up your selection.
Choosing a leotard by features
Each leotard can have several different variants - features that specify its use. For a better orientation, here is a list of features you can choose from on our website: With bra, Thick straps, Round neck, With skirt, Turtleneck, Jumper, Sleeveless, Long sleeve, Three-quarter sleeve, Short sleeve Thin straps
Choosing a leotard by age.
Even here choosing should be intuitive and obvious, but if you want to double-check, order according the table mentioned in point 2.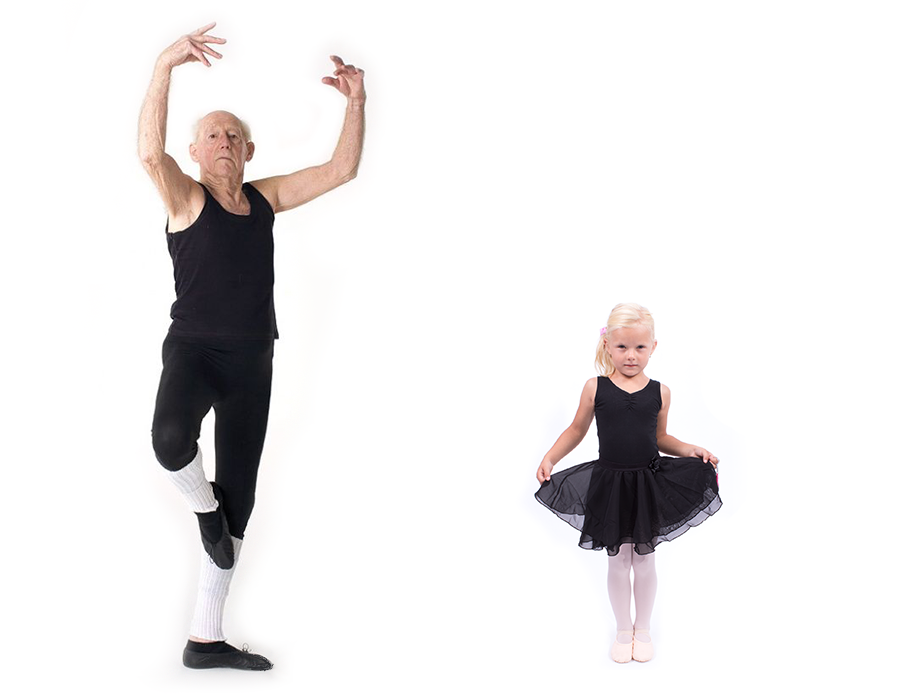 In conclusion
In this article we tried to outline possible ways of choosing a dance leotard. Considering the high individuality of each dancer, perhaps the best way is to use advanced filtering in the category of dance leotards. I wish you a successful selection.
Complete offer of our leotards can be found on our website.